Small-size PCB and low power consumption chips are the key factors for the popular wearable application. Infineon launched the minimum Plug and Play smart NFC module。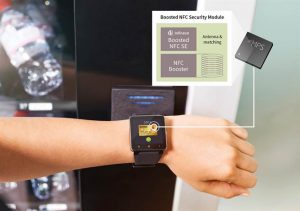 Wearable devices are increasingly popular all over the world. There are more and more different wearable devices integrated the payment functionality ,which makes a new challenge for the IC manufacturers : the security chip and NFC technology must be integrated into a extremly small device. Infineon and Beijing ZhongQingYiHe company cooperatly launched an exclusive NFC security module series products.The new plug and play solution will make the infineon built-in NFC antenna of high-level security chip and software integrated into a tiny circuit encapsulation,which greatly reduce the design manpower of device manufacturers . and the size of the smallest module of the series products is only with an area of 4 mm x 4 mm.
The Boosted NFC security module series produced by the Beijing ZhongQingYiHe company, has been certified by the people's bank of China (PBOC) of China's financial certification certer.This certification will be an important promoter of pushing the rapid growth of China payment market.
Wang Yanzhong ,general manager of Beijing ZhongQingYiHe company, said: Small-size PCB and low power consumption chips are the key factors for the popular wearable application. This is reason why we use Infineon Boosted NFC security chip. This chip provides a unique combination of system design and safety features. Certified NFC security module will be able to speed up the adopted speed of NFC payment of the regional markets of China
Vice President and general manager of infineon security operations and transaction ,Thomas Rosteck says: "With the driven trend of Internet of Things and always connected (always on) , all smart devices will be built-in the payment function in future. The market will demand new system architecture, so it is easy to integrate reliable hardware poses security function from all kinds of devices. Infineon pioneered innovative solutions which include Boosted NFC security chip in the field of mobile payment .